Google recently launched the next generation of web and app analytics – Google Analytics 4 (GA4). It replaces the classic Universal Analytics which has been around for over a decade. GA4 provides several improvements and new capabilities to generate deeper insights.
Some key things to know about GA4:
Event-based data model:
GA4 tracks data as events instead of pageviews. This event-based model captures all user interactions like clicks, taps, scrolls, purchases etc. as events to provide a holistic view of user behavior.
Cross-platform tracking:
GA4 can track user interactions across websites, Android and iOS apps, and offline sources using the same property. It offers a unified view of how users engage with your brand across devices and platforms.
Advanced insights
GA4 leverages machine learning to provide predictive and automated insights. Features like anomaly detection, predictive metrics and automated insights help identify patterns and trends to optimize your strategies.
Simpler implementation:
Setting up GA4 requires adding a new tracking code on your site or app. The implementation is streamlined compared to Universal Analytics, making it easier to customize data collection and event tracking.
Focus on privacy:
GA4 emphasizes data privacy and protection. It offers consent controls, data retention limits and data deletion options in line with privacy regulations.
Enhanced reports:
The GA4 interface provides an updated experience with powerful data exploration and customized reporting capabilities using Analysis Hub.
BigQuery integration:
GA4 natively integrates with Google BigQuery to export raw, unsampled data for advanced analytics using SQL and other tools.
Migration considerations
While GA4 offers many improvements, migrating from Universal Analytics is not a direct upgrade. The data models differ, so planning and testing are crucial to a successful transition.
To maximize GA4, familiarize yourself with its features, read Google's guides, and understand your needs and goals. Our team of SEO analysts can help you navigate the transition from Universal Analytics to Google Analytics 4. With the right strategy and implementation, GA4's evolution can help you gain deeper insights, optimize efforts and grow your business.
What are some best practices for migrating from
Universal Analytics to GA4
?
Here are some best practices for migrating from Universal Analytics to GA4:
Test the new implementation – Start by implementing the new GA4 tracking code on a test page or in a test app. Test all event tracking and data collection to confirm it's working properly.
Connect to BigQuery – Configure GA4 to export data to BigQuery as early as possible. This will give you time to test and optimize your BigQuery structures and queries.
Maintain both platforms – After implementing GA4, keep Universal Analytics running for a while to compare data and reports between the two platforms. This will help you validate the accuracy of GA4 data.
Select the right data streams – Carefully choose which data streams you need based on your reporting and analysis requirements. Start with the most important streams, then add more over time.
Configure appropriate property settings – Configure things like data retention, data deletion, and consent settings to match your privacy, security and compliance needs.
Customize event tracking – Review all your current event tracking and page tracking to determine how to implement equivalent tracking in GA4. Test and optimize your event tracking.
Create essential reports – Recreate your most important reports in GA4. Either build these from scratch or migrate existing Universal Analytics custom reports.
Integrate with your systems – If GA4 data needs to feed into other systems, update those integrations to work with GA4 event and data stream formats.
Plan a controlled migration timeline – Decide on a schedule to fully migrate traffic, taking an incremental approach. Monitor data closely throughout the transition.
Hope this gives you a good starting point for your GA4 migration! Let us know if you have any other questions.
SEO is a difficult process, and it can often take months of hard work before you see any success. To achieve this, you will need to make significant changes to your website's content. This often involves a lot of trial-and-error and trial.
Your SEO problems might be due to the following – the title tag is not optimized, you are using keywords in URLs without optimizing them, your metadata is not up-to-date, you do not have a good on-page optimization strategy, or your website is too technical and difficult for users to navigate.
If you're hitting a brick wall for your SEO, consider these tips – hire a professional developer or designer to run optimization tests on your website's design; remove bad plugins or scripts from the site; update metadata; use keyword phrases in all URL's; create an innovative title tag that includes keywords in the body text.
How to Begin Your Search Engine Optimization Journey and Get Noticed by Search Engines
Search Engine Optimization is a very important aspect of digital marketing. It's how people find your website and how it ranks on search engines like Google. This introduction provides detailed information about the process of SEO and a summary of how to get started with this field.
The topic, "How to Begin Your Search Engine Optimization Journey And Get Noticed by Search Engines," is an introductory piece that provides background information on the field, as well as helpful tips for those who want to begin their own search engine optimization journey.
This article provides an overview of the different types of SEO tactics, begins with an explanation on what is meant by organic search engine results, and then goes into detail about creating content for Google.
Introduction: With all data becoming more accessible for companies in today's day and age, competition has become fierce as companies compete to see which brand gets noticed first or have higher rankings on search engines. This introduction discusses what leads to success
What Do You Need To Know About Keyword Research and the 3 Phases of Keyword Research?
Keyword research is a crucial part of the SEO process. It helps to identify which keywords are popular, find related keywords and find out how long it will take for your content to rank for those keywords.
The three phases of keyword research that people typically go through are:
– Conducting a general keyword search with an SEO tool like SEMrush to identify all the relevant keywords in your niche
– Conducting a more specific keyword search for phrases, titles or individual words that you want to include in your content
– Using title tags, meta descriptions and content length guidelines as guidelines when creating your content
How Much Will My First Campaign Cost? And What Types of Campaigns Are There?
While the cost of a campaign is not an easy question to answer, it is important for beginners to understand that there are many different types of campaigns in the market. Below are a few different types of campaigns that you can start your first campaign with.
The cost of a campaign may vary based on the type of service or product that you are selling and what your expectations are. You should always consider the target audience, niche, offer and budget when planning your first campaign.
There are many different types of campaigns in the marketplace:
Direct response campaigns include online marketing, email marketing and telemarketing
Social media marketing includes Facebook ads, Instagram ads, Twitter ads
SEO comes with various packages with varying levels of expertise required. Depending on the package chosen by entrepreneurs, they get to know more about SEO strategies
Content marketing includes blog articles/posts and videos
PR services for startups such as branding and press releases
The following content marketing examples are provided:
The blog post about your company's success story. This will help you establish your credibility and show the market that you have an expertise in this field
Video overview of what you do. This will let people know about your business goals and will act as a form of content with a visual aid that lets people see what the company does
Press release about how the company is innovating in its industry
Case study on how the company was able to grow its revenue
News article on how the company is taking over an industry
Interview with representatives from the company In accordance with these examples, a press release article can be used along with a case study on how their growth has been thriving. A news article can also be used that talks about how they are taking over industry and expanding.
What's Causing Your SEO Problems?
Google is the most important search engine in the world, and it's not going anywhere anytime soon. Google Search Engine Optimization (SEO) is a complicated process that requires a lot of time and effort to improve your rankings on Google. When you're trying to improve your SEO, there are some common mistakes that may be leading to problems. To summarize this introduction, we can say that SEO errors are causing all sorts of problems – including low rankings, too many links pointing back to one page, poor traffic and increased bounce rates.
Five Ways to Optimize Your Content for Search Results
This topic will cover some of the ways that you can optimize your content for search results. Optimizing your content for search results is a process that helps to increase visibility and drive traffic from specific keywords. It also helps businesses to find new ways to communicate their message in an engaging and impactful way. In addition, SEO is one of the most important terms for any business, which is why it's important to create high-quality content that attracts people online rather than just simply sharing information on social media or with blogs. .With the onset of digital marketing, nearly every business has seen an increase in social media. One question that many businesses need to ask is, "How do I drive traffic that can be converted into sales?" In order for your content to be found in search engines and for your website to rank well, it needs to be optimized for the keywords you are targeting. Optimizing your content for search results is one way of achieving this goal.
You may be wondering how to optimize content for search engines. Here are five ways that will help you do just that.
1. Use keyword-rich titles
2. Include your target keywords
3. Optimize your metadata
4. Optimize your content for mobile devices
5. Guest post on a high-quality website in an authoritative subject area
How to Energize Your Website & Increase Traffic by Increasing Organic Search Engines
Boosting your website ranking in organic search engines can be tricky, but it's a crucial thing to do in order to attract more traffic to your site. There are many ways to improve your site's organic search engine rank, but the best way is by improving the quality of your content.
Generally, content marketing experts agree that webmasters should spend 50% of their time writing articles and just 50% time on promoting them. People often underestimate the power of articles' content when they pursue SEO strategies.
Content writing is a job that requires more than just creativity and the ability to write well. A lot of skills like research and knowledge on the product are necessary as well, especially if you want to become an expert writer on a certain topic. Employers also require candidates with experience for this job, so you would have to either start at an agency or self-publish first before landing a gig from an employer.
Conclusion – Relying on SEO alone now won't
Businesses can perform better by using different types of content, such as video and social media. The steady growth in 3rd party content production is ushering in a new era in digital marketing. As search engine optimization has become harder with changes to algorithms, businesses are now turning to alternative content production methods such as video and social media. A study from Edison Research shows that 56% of marketers have shifted their focus from SEO to other marketing activities such as paid ads and PR. It is time for businesses to focus on effective marketing strategies that are not solely reliant on SEO, but also include analytics, collaboration with 3rd party publishers, content creation for various platforms and more.
One Design Technologies is an SEO Company that helps companies get back on track with the help of their digital marketing strategists and SEO consultants. Link building is the most important part of any digital marketing strategy. One Design Technologies can help organizations who have hit a brick wall in their SEO campaigns.
Local SEO is undoubtedly one of the most crucial aspects of your business and it will allow you to expand your marketing efforts to the physical world. Achieving good rankings in the search results for keywords that are pertinent to your business is the most important aspect of online marketing. Companies like Yelp and Google+ dominate the local SEO market. With their dominance, it is incredibly difficult to outrank them for something as localized as "SEO agency new york" or "SEO Company near me". Local SEO services have become indispensable for many businesses in the modern world of digital marketing who are trying to grow their customer base through online presence.
What is local SEO?
Local SEO is a niche of search engine optimization (SEO) that deals with optimizing your business for the search engines for customers in a specific geographic area. Local SEO has many benefits. It can help to reduce the costs associated with online advertising and increase customer conversions, as well as gaining more control over your online marketing. It can be difficult to rank highly on search engines like Google if you don't have a good understanding of how they work. However, by following these tips, you'll be well on your way to getting more customers through your door!
What You Should Know About Local SEO Before You Begin
Local SEO is the most crucial kind of SEO that you should take care of. It is not only about how to rank higher in local searches but also about how to rank better in Google's organic SERPs. Local SEO can often require a higher level of expertise. But there are many ways for you to get started with local SEO and establish your market presence even if you are a small business or just starting out on your own. This section provides information on what you should know about local search engine optimization (SEO) before doing it yourself. The article addresses topics such as the importance of local SEO, its search engine ranking benefits, and the different types of content required by Google that might not be common knowledge among newcomers.
How Local SEO Helps Grow Your Business?
Local SEO is all about ensuring that a specific website has a higher ranking in the Google search engine results page when someone searches for it in a particular location. There are many benefits of using Local SEO to grow your business. You can leverage the power of location and make your business visible to potential customers, who are exploring their immediate vicinity. You can also use this strategy to attract potential customers in other locations who want to explore what's near them by changing their locale settings on Google Maps.
The 7 Ways Local SEO Will Protect Your Business from Competition and Improve Rankings
Local SEO will protect your business from competition and improve rankings by driving in more customers, improving customer service and boosting revenue. Local SEO is the process of optimizing a website to rank higher on search engines and drive more traffic to a location or business. It's important for local businesses to have an online presence because it gives them the opportunity to gain revenue from their target market, no matter where they are located.
A small business with a physical location will rank higher when they rank for their city's name. Even if an individual searches for a type of product, if you are close by and provide that product, you will show up on the first page of the search engine results. The process is about maximizing your chances of getting found by those who are actively looking for services or products in your area.
Increase in Visibility on Search Engines
Search engine algorithms are getting smarter. Google, for instance, has an updated search algorithm, which is said to be able to detect whether a post is what it is deemed as "fact-based" or not. The content that Google deems as "fact-based" will be prioritized on the search page over other content. This change means that companies must now ensure that they are creating and publishing quality post that can be deemed as "fact-based".
This can affect businesses in various ways. Some of them may face penalties if they are not able to maintain the standards set by this update. Meanwhile, those who do maintain their standards will have their visibility increased on search engines like Google and Bing. Businesses should put more focus in creating content with quality so as to rank higher on SERPs and have better chances of being ranked first for competitive keywords in their niche. An increase in rankings will lead to an increase in revenue for the business because of better visibility. This change in search engine algorithms will also influence how businesses should handle their social media content. If a business posts a quality post on Instagram, they may be able to rank higher than those who do not have quality content on social media.
For instance, if the business posts high-quality content such as photos or images that are an accurate representation of their products, they would be more likely to rank higher than those who create low-quality and inaccurate photos for their Instagram posts. Businesses will be able to reach a wider audience through this method of marketing. For social media networks, such as Instagram and Facebook, the algorithm will help users find new content more easily. For example, if a user is on Facebook and they are scrolling through their feed, the algorithm will display different posts based on what the user has engaged with in the past.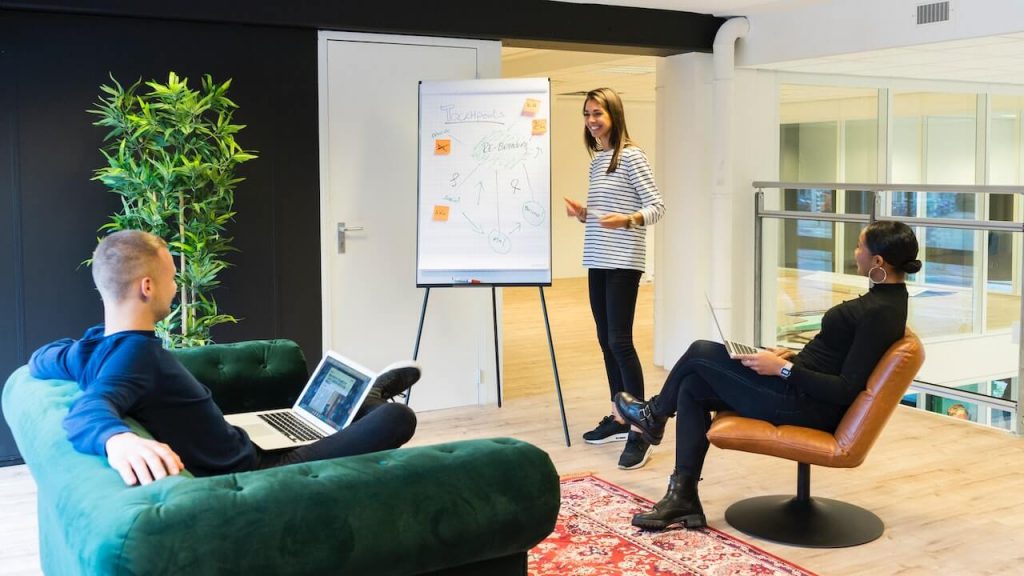 Relevant Local web traffic and Customers
The quest for the gold-mine of relevant local web traffic and customers has been many a businessman, entrepreneur, and website owner's goal.
In this section we will discuss the related concepts of relevance and importance. Relevance is defined as "the quality that something is considered appropriate to or worthy of consideration in a given context or situation." Importance refers to what is considered significant, especially in a particular sphere.
Visibility on Maps and Better conversion rates
The concept is fairly simple: if you want to find a place, you usually search on your favorite map application and then follow the pins to the destination. If the pin is well-positioned, you will be able to find the destination quicker and easier. What's more, when people see that they can reach a place within their desired time frame, they are more likely to convert at your store.
Increased Ranking in Maps for a Specific Area or Keyword at a Specific Location
Google Maps may not show the correct information for a specific location due to factors like outdated data, lack of public transit, etc.
The maps ranking algorithm was invented by a Stanford student named Li Deng in 2009. This algorithm is based on the popularity of locations and their proximity to other popular locations.
In order to ensure that Google Maps provides accurate information for its users, the company has partnered with more than 300 agencies around the world to provide data about public transit and other factors that affect traffic congestion.
The maps ranking algorithm is one of the most important features of Google Maps as it helps provide accurate information about different locations around the world to its users based on popularity and proximity.
More Localized Social Media Engagement from Relevant Locations & Audiences within the Area You Serve
The search engine giant Google has a long history of updates with one of the latest additions being their maps ranking algorithm. In this article, I will answer what an increased ranking in maps means and how to rank your business high on Google Maps.
Google Maps is the go-to place for all your directions and it includes driving, walking, cycling and public transportation. It also includes air travel as well as flight schedules, airport information and alerts about delays or cancellations. It is also a great starting point for research about your next vacation destination or weekend getaway spot. The new update to the search engine giant's maps rankings algorithm has helped businesses rank higher in Google Maps if they are located in higher-density areas like Manhattan or Washington DC which have more businesses competing for these prime real estate spots. If you are not in one of these high-density spots then you will need to do something else to increase your chances at getting a prime spot in the map rankings. To increase chances of getting a prime spot in Google Maps, it is important to have your business be where people are seeing it. Examples of this would be boosting social media campaigns or placing high-quality photos and videos on your website and in public spaces. Another strategy is to create a story around your business that keeps people coming back for more. Some businesses have even taken to changing their sign, logo or brand colors to match their best selling season!
Access to Fresh Content from an Interesting Perspective with Local Knowledge & Expertise Available When Needed
Access to fresh content from an interesting perspective, combined with local knowledge and expertise available when needed is the key to success or failure. Localized knowledge, which can be found at a specific time, can have a significant impact on the customer journey.
Companies will need access to fresh content from an interesting perspective with specialized knowledge and expertise that is available when needed in order to provide a personalized experience for their customers.
Local SEO Is a Solid Investment in Your Future and Reduces advertising costs
Local SEO is the most powerful way to market your business online. It is a solid investment because it's cost-effective and it will provide you with a constant stream of visitors – more so than any other form of advertising.
Local SEO is the most powerful way to get found by customers, both ones you want and ones that are just looking. Local SEO can be an effective tool to reduce advertising costs and instead focus on more personalized outreach strategies.
We should not think of this as an expense; we should view this investment as an opportunity for growth and stability in the future.
Why is Local SEO Important for Your Business?
Local SEO is the process of optimizing a business' online presence for its geographical location. It is crucial for a small business to set up an online presence in order to be found by those in the local area who are looking for such products or services. Having a physical store front and focusing on local customers will not be enough.
First, it is important to note that 95% of Google searches are either local or they lead to local information so it is crucial that businesses rank high when people search on Google. It may seem difficult but with the right knowledge and strategic approach, this can become a reality.
Local SEO helps smaller businesses compete with major companies that have more money but do not focus on their areas of interest, which allows these companies to be found more easily by consumers and reach new clients more effectively than their competitors who don't care about localization. Local search presents opportunities for small businesses in both big cities as well as smaller towns alike and allows them to compete with companies with greater resources. The significance of local search also hinges on the idea that businesses need to be able to be found by people in their area. For example, if a person searches online for a photo lab in East Ridge, TN, they are likely to find many options and return results quickly as opposed to trying wholeheartedly for an hour and then deciding that they would rather do business elsewhere.
Conclusion – Have you optimized for local SEO yet?
In 2016, Google started to penalize websites for not being mobile-friendly. This was a big deal for small businesses that were not prepared for this change. This can be a death sentence for your business if you don't optimize your website for local SEO and make it mobile-friendly. In this section, we'll look at what you should do to make sure your site is ready to compete in the search engine wars of 2019. Some of these things may not sound intuitive but they work. For example, using a model of an ice cream truck on your homepage or designing with pastel colors will help people stay on your site longer and increase the chance that they will buy something from you. Google has made it difficult to rank locally, but with the help of One Design Technologies, you can get back on top. One Design Technologies is a leading web design and digital marketing agency, who specializes in creating multi-channel digital brands. They specialize in a wide range of services that includes search engine optimization, social media marketing and much more.